Practice Areas
Admiralty & Maritime Law
Appellate Practice
Aviation Law
Bad Faith
Catastrophic/High Exposure Litigation
Commercial & Business Litigation
Construction Law
Employment Law
General Liability
Medical Negligence
Insurance Coverage – Primary and Excess
Products Liability
Professional Liability
Retail and Hospitality Law
Social Services Liability
Transportation Law
Trucking Law
Toxic & Environmental Law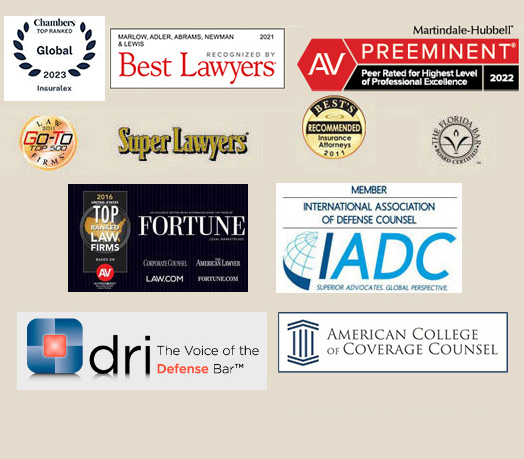 News
In October of 2017, JOEL D. ADLER and ROBERT SCOTT NEWMAN were invited to appear before the AIG Commercial Claims Department in New York City. JOEL and SCOTT spoke on topics of the "Florida Claims Administration Act and Properly Preserving Coverage Issues under Florida Law," providing a combined 65 years of experience on issues of concern for claim professionals handling high stakes claims in this jurisdiction.
MARLOW ADLER is proud to announce that JENNIFER HOFFMAN has recently been recognized as the 2016 Recipient of DRI's Davis Carr Outstanding Committee Chair Award. This award honors Jennifer's chairmanship of the Retail and Hospitality Committee for the Defense Research Institute (DRI).
Senior trial attorneys SAM LEWIS and HOWARD STONE recently won a defense verdict in a 7 day trial in Palm Beach County on behalf of a large retailer. The plaintiff, a 41-year-old hair stylist, claimed that she suffered severe cervical and lumbar injuries when she slipped and fell on non-slip-resistant painted markings on the surface of the store's asphalt parking lot on a rainy evening. Plaintiff had undergone cervical surgery and forecast the need for lumbar surgery. She sought past and future economic damages in excess of $1.2 million, plus substantial past and future noneconomic damages and the plaintiff's husband brought a consortium claim. Plaintiffs sought total damages of $3 million.
BRUCE MARX travelled to London and presented his paper entitled "International Casualty Litigation—Issues Which Can Affect the Handling of a Foreign Claim Filed in a U.S. Court." Bruce made several presentations to various claims, underwriters, brokers and MGA's in the Lloyd's insurance market as well as other insurers and associations including Aegis, Amlin, Ascot, BMS Group, Chaucer, Chubb, Dualgroup, Endurance, Generali, Ironshore, RKH Specialty, Mitsui, QBE and members of the International Underwriting Association.
SCOTT NEWMAN recently spoke at the Insuralex mid-year meeting and seminar held in Los Angeles, California in November 2015. Insuralex is an international group of lawyers selected because of their expertise in insurance and reinsurance law. Scott spoke on the topic of "Artificial Intelligence & the Use of Robots" in the context of Workplace and Professional Liability Exposures. In addition, Scott presented a paper for the attendees regarding emerging legal issues affecting liability insurers in Florida during 2015.
MARLOW ADLER ABRAMS NEWMAN & LEWIS has been selected by FORTUNE Magazine together with American Lawyer Media as a 2016 U.S. Top Ranked Law Firm.
MICHAEL ROTUNNO and JENNIFER HOFFMAN win defense verdict rendered by a jury in a premises liability trial involving a shopper's claim alleging that a wheel on a shopping cart injured her toe. Plaintiff claimed the shopping cart was defective with a dangerous caster design and sued a major grocery store chain for negligence. Our trial lawyers successfully argued that plaintiff's injury was not hyperextension as represented by plaintiff's orthopedist, but rather blunt force trauma due to plaintiff pulling the cart with the wheel onto her foot. The jury agreed and sided with the defense, finding no negligence on the part of the grocery chain.
BRUCE R. MARX and KARL E. STURGE were recently in Alpharetta, Georgia and previously in Chicago, Illinois presenting to members of ACE North American Claims and ESIS. Bruce and Karl presented their paper entitled "Florida Law Topics of Interest for the Claims Professional" that covered the following subjects: The Enforceability of Indemnity Agreements; Adjuster Ethics; Bad Faith and Sovereign Immunity.
MARLOW ADLER is proud to announce the launching of International Casualty Quarterly; a newsletter authored by BRUCE R. MARX that is dedicated to the claims professional who handles international casualty litigation. This newsletter provides updates on current case law relating to forum non conveniens, personal jurisdiction and other legal principles which are applicable to U.S. litigation of foreign claims. If you would like to receive this publication on a quarterly basis, please e-mail Bruce R. Marx at bmarx@marlowadler.com and we will add you to our circulation list.
BRUCE R. MARX was in New York, N.Y. presenting to members of the AIG International Casualty team, as well as representatives of Generali USA Branch on the subject of personal jurisdiction and forum non conveniens. The presentation involved a discussion of the recent developments in personal jurisdiction and forum non conveniens case law, as well as important issues to consider when presenting these defenses on behalf of foreign business interests.
JENNIFER HOFFMAN has recently been appointed by The Defense Research Institute (DRI) to serve as the Chair of the Retail and Hospitality Committee for 2014-2015. She has previously served as the Vice Chair of the Retail and Hospitality Committee and as Program Chair for DRI's Retail and Hospitality Litigation and Claims Management seminar held in May 2014 in Chicago, Illinois.
SCOTT NEWMAN recently submitted an article entitled: "Florida – 2014 Update" for publication on the Insuralex website: www.insuralex.com. The article discusses topical legal issues of concern to insurers and business interests within Florida. MARLOW ADLER is the Florida representative for Insuralex, an international organization of law firms specializing in the representation of insurers, reinsurers and business interests. Click Here to read the article.
ROSEMARY WILDER has been elected president of the ACLU of Florida, a State-wide organization with almost 18,000 members, and 16 Chapters throughout the State. The ACLU of Florida, an affiliate of the national ACLU, is our nation's guardian of liberty, working daily in courts, legislatures, and communities to defend and preserve the individual rights and liberties guaranteed to all people in this country by the Constitution and the laws of the United States.
MARLOW ADLER is proud to announce that MARITZA PEÑA's construction law article on prejudgment interest law has been chosen for publication in the April 2014 edition of the Defense Counsel Journal for the International Association of Defense Counsel (IADC).
BRUCE MARX was a guest speaker at the Airports Council International North America's 2014 15th Annual Risk Management Conference held in West Palm Beach, Florida. Bruce spoke on the Enforceability of Indemnity Agreements Between Airport Authorities and their Contractors/Tenants.
JENNIFER HOFFMAN is currently serving her second year as Vice Chair of the Retail and Hospitality Committee for DRI. She is also serving as Program Chair for DRI's Retail and Hospitality Litigation and Claims Management seminar which will be held May 14-16, 2014 at the Westin Hotel in Chicago, Illinois.
JENNIFER HOFFMAN was recently invited to join the Federation of Defense and Corporate Counsel organization.
SCOTT NEWMAN was recently recognized by American Lawyer Media and Martindale-Hubbell for his selection as a "2013 Top Rated Lawyer in Insurance Law."
HOWARD STONE and BRUCE MARX win defense verdict rendered by a jury in a federal court trial involving severe facial fractures suffered by a resort guest in Jamaica. In December, 2012, Howard Stone and Bruce Marx successfully defended an all-inclusive resort located in Negril, Jamaica in a week long jury trial. The Plaintiff, a 43-year-old medical doctor from Hershey, Pa., suffered multiple severe facial fractures while engaging in a bench press exercise at the resort's fitness facility. Plaintiff claimed that a heavy barbell fell onto his face as the result of a defective "power rack" and that the fitness facility was not reasonably safe for guests of the resort. Our trial lawyers demonstrated through physical evidence, as well as expert testimony from a certified exercise physiologist and a registered professional engineer, that the power rack was not defective and that the incident was caused exclusively by the Plaintiff's own carelessness. Plaintiff claimed that the incident has caused him to suffer chronic facial pain, vision problems and post-traumatic stress disorder. Plaintiff sought to recover damages relating to medical expenses, physical and emotional pain and suffering and loss of earning capacity. Plaintiff's wife brought a loss of consortium claim. Plaintiffs sought damages totaling $5-million.
SCOTT NEWMAN was recently appointed to the Managing Partner Task Force of the International Association of Defense Counsel. Scott, along with six other defense practitioners throughout the country, has been asked by this internationally recognized defense organization to develop strategies for law firms working closely with 21st century business.