News & Events
The International Association of Defense Counsel held its virtual Mid-Year Meeting February 15-19, 2021, with hundreds of defense attorneys, carrier representatives and in-house counsel participating from all over the world. SCOTT NEWMAN was a featured speaker in a presentation on the first day entitled: "DOES YOUR BUSINESS HAVE THE FLU?  IMPACTS AND SOLUTIONS OF THE COVID 19 VIRUS UPON AND FOR INSUREDS AND INSURERS".  Scott's portion of the program dealt with recent developments arising in the areas of business interruption and civil authority clauses, the virus exclusion, pandemic coverage, and alternatives to pandemic coverage for future disasters such as industry and legislative reactions promoting public, private partnerships in which the insureds, insurers and the federal government all share in the risk.  Scott closed his portion of the program highlighting efforts to create civil immunity provisions from legal liability for state and federal frontline health care workers, pharmaceutical companies and employers of essential workers such as grocery clerks or drug store workers.  If you would like to read Scott's paper for the presentation, you may download it here.
On April 15,2020, SCOTT NEWMAN presented as one of four members of a webinar panel selected from the Insurance and Re-Insurance Committee of the International Association of Defense Counsel (IADC). The topic was "Insurance Coverage Concerns from Covid-19" and is part of a series of webinars being sponsored by the IADC related to the current pandemic. The topics included third party claims, current legislative efforts and the theories evolving from the first wave of lawsuits filed to date. Scott addressed first party concerns such as Business Interruption claims asserted under Commercial Property policies including the key components and hurdles under such policies such as Business Expense and Income coverage, Civil Authority Order coverage, and the standard Virus and Bacterium Exclusion appended to over 90% of these policies back in 2006 after ISO appealed to the various state insurance regulators for its inclusion in the standard Commercial Property policy.
------------------------------------------------------------
In February 2020, JOEL ADLER and SCOTT NEWMAN were invited to present a seminar on the "Policies and Pitfalls Attendant to the Florida Claims Administration Act" and the "Bad Faith Boundaries in Florida and Other Jurisdictions." Their presentation, followed by a question and answer session, was attended by Senior Management and Senior Claims Managers for all lines of coverage underwritten by Hallmark Financial Services Group headquartered in Dallas, Texas. Joel presented on Florida's Claims Administration Act and Scott discussed Florida Bad Faith law as compared and contrasted with that of several other jurisdictions throughout the country.
------------------------------------------------------------
JOEL ADLER and STEPHEN SMITH recently won a defense verdict on behalf of a security guard and security company in a 10 day jury trial in the re-trial of a defamation and malicious prosecution action in Miami.  The Plaintiff had previously been awarded $4.6 Million in a trial in August 2016 that was overturned on appeal in which the defendants were represented by another law firm.  In addition to PTSD and other emotional damages, he and his wife sought nearly $5 million in economic damages.  The plaintiff, a corporate videographer, claimed that he had been falsely accused of making a hoax bomb threat at a high-rise office building in downtown Miami in July 2011.  Our attorneys successfully defended against the Plaintiffs' claims and returned a finding of no liability. 
------------------------------------------------------------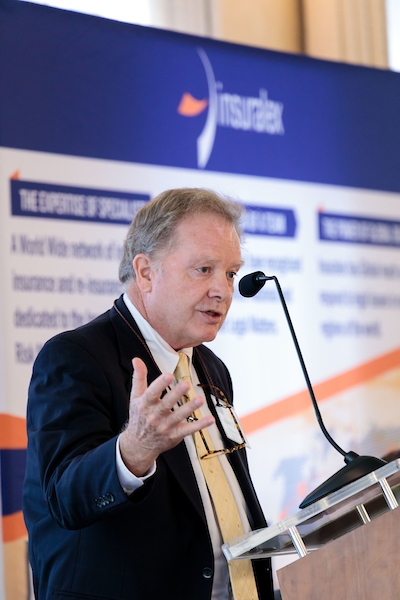 SCOTT NEWMAN recently spoke in Chicago, IL on the topic of "Reverse Bad Faith" at the September 2019 meeting for the North American members of Insuralex. Insuralex is a global network of insurance, reinsurance, commercial & civil litigation law firms whose members are vetted and selected based on their expertise in these areas in the representation & counseling of insurance companies & large corporations. Scott's firm and the other members of Insuralex may be found throughout the U.S., Europe, Asia, Africa and the Mideast.