Maritza Peña
Partner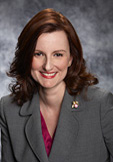 Email: mpena@marlowadler.com
Direct Dial: 305.460.6519
Fax: 305.446.3667
Maritza Peña is a Partner of the firm. Ms. Peña concentrates her practice on the representation of developers, general contractors, subcontractors and their insurance companies in complex construction defect litigation.
In her twenty years as an attorney, she has represented developers, general contractors, subcontractors, design professionals, and special inspectors in construction defect claims, personal injury/wrongful death claims/suits, Chapter 558 proceedings, mediations, arbitrations and trials.
Ms. Peña's practice also includes the representation of social service agencies in the State of Florida. In the last 10 years, Ms. Peña has represented lead agencies, community-based care providers and subcontractors, drug treatment centers and therapeutic centers, in matters involving abuse and/or catastrophic injuries, including death.
Professional Associations and Memberships
Florida Bar Association

Member, The Real Property, Probate & Trust Law Section

International Association of Defense Counsel

Insurance and Reinsurance Committee, Vice Chair, Webinars – 2017-2018
Construction Law Committee

Florida Defense Lawyer's Association
American Bar Association
Dade County Defense Bar Association
Speaking Engagements
"How To Tackle Issues Raised from Representing Multiple Parties under a WRAP Policy," Host of Webinar sponsored by IADC Construction Law and Litigation Committee and Insurance and Reinsurance Committee called WRAP Policies - Navigating Ethical Issues on Your Construction Files (May, 2018)
"50 State Survey on Prejudgment Interest in Construction Defect Cases," Presentation on behalf of the Construction Law and Litigation committee and Insurance and Reinsurance committee at International Association of Defense Counsel (IADC) Mid-Year Meeting, Scottsdale, Arizona (October, 2014)
"Prejudgment Interest Law," Continuing Legal Education Presentation on behalf of The Real Property, Probate & Trust Law Section of The Florida Bar (July, 2014)
Risk Management Presentations for social services agencies
Publications
"Is a Construction Defect Plaintiff Entitled to Prejudgment Interest for Unrepaired Defects?" ActionLine Magazine, The Real Property, Probate & Trust Law Section of The Florida Bar (Winter 2014-15)
"Prejudgment Interest in Construction Defect Litigation: Florida's Loss Theory on Liquidated Damages Post-Bosem and Why Every Construction Lawyer Should be Familiar with It," 81 Def. Couns. J. 173 (April 2014)
"English-Only Laws and the Fourteenth Amendment: Dealing with Pluralism in a Nation Divided by Xenophobia," 29 U. Miami Inter-Am. L. Rev. 349 (Winter 1998)
Languages